Partitioning the population attributable fraction for a sequential chain of effects
Epidemiologic Perspectives & Innovations
2008
5:5
Received: 03 March 2008
Accepted: 02 October 2008
Published: 02 October 2008
Abstract
Background
While the population attributable fraction (PAF) provides potentially valuable information regarding the community-level effect of risk factors, significant limitations exist with current strategies for estimating a PAF in multiple risk factor models. These strategies can result in paradoxical or ambiguous measures of effect, or require unrealistic assumptions regarding variables in the model. A method is proposed in which an overall or total PAF across multiple risk factors is partitioned into components based upon a sequential ordering of effects. This method is applied to several hypothetical data sets in order to demonstrate its application and interpretation in diverse analytic situations.
Results
The proposed method is demonstrated to provide clear and interpretable measures of effect, even when risk factors are related/correlated and/or when risk factors interact. Furthermore, this strategy not only addresses, but also quantifies issues raised by other researchers who have noted the potential impact of population-shifts on population-level effects in multiple risk factor models.
Conclusion
Combined with simple, unadjusted PAF estimates and an aggregate PAF based on all risk factors under consideration, the sequentially partitioned PAF provides valuable additional information regarding the process through which population rates of a disorder may be impacted. In addition, the approach can also be used to statistically control for confounding by other variables, while avoiding the potential pitfalls of attempting to separately differentiate direct and indirect effects.
Background
Recent attention has focused upon the need to consider the sequential chain of effects when calculating and interpreting relative risk in multiple risk factor models[
1
]. For example, as illustrated in Figure
1
, simultaneously controlling for the mutual association between smoking and birthweight when examining the effect of these variables upon mild mental retardation (MMR) (Figure
1
, middle and lower panels) is not equivalent to a model in which smoking leads to elevated risk for low birthweight, which then leads to elevated risk for MMR[
2
] (Figure
1
, top panel). With such models, the manner and sequence in which relative risk is calculated vary depending on the order of the variable in the sequence of effects. A similar issue applies to the estimation of measures of community level effect, such as the population attributable fraction (PAF)–also referred to as population attributable risk, or attributable risk. Ignoring the causal or sequential ordering of risk factors either assumes that they are independent (i.e., do not influence each other–Figure
1
, middle panel) or assumes that they are all mutually correlated–every risk factor influences or has bidirectional associations with every other risk factor (Figure
1
, bottom panel), even if one occurs in childhood and the other before a child was born.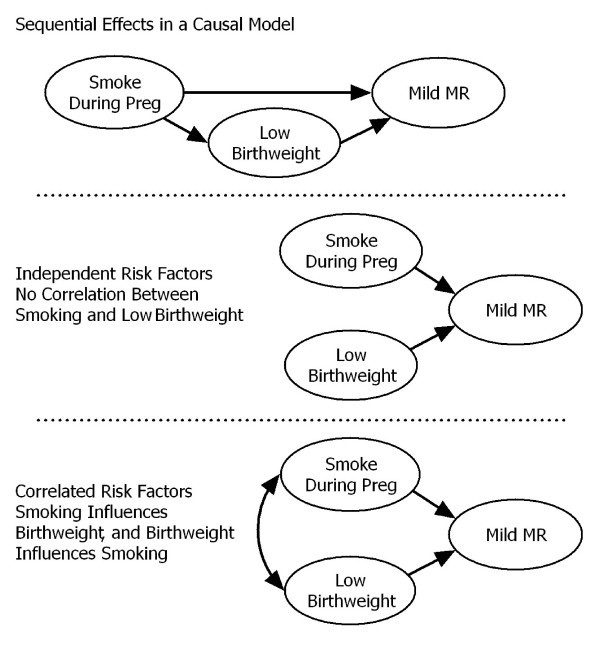 In a sequential or causal ordering of effects, an earlier risk factor can impact subsequent risk factors by increasing their rate or prevalence (i.e., an indirect effect). In other words, an indirect effect is where one predictor variable has an impact on an outcome variable through an intermediate predictor variable (e.g., smoking influences low birthweight, low birthweight influences MMR–see Figure 1, top panel). In addition, one risk factor may interact with a subsequent risk factor by magnifying or reducing the effect it has upon the outcome (i.e., an interaction effect).
It's worth noting that two predictors can have an indirect effect on an outcome with no interaction effect: For example, smoking may lead to higher rates of low birthweight, and low birthweight may lead to higher rates of MMR; but the effect of being born low birthweight may be identical for all children, regardless of whether or not their mother smoked during pregnancy. Similarly, absence of an indirect effect does not preclude an interaction effect upon the same outcome. For example, child sex and birthweight may have no correlation with each other–and hence no indirect effect–while the effect of low birthweight on a developmental outcome may be very small for females but very large for males (i.e., a large interaction effect).
While several strategies exist for estimating a PAF for one risk factor while simultaneously statistically controlling for other variables [3–5], these strategies do not consider the sequence in which these variables influence each other and the outcome as just described. This results in estimates that have a variety of known problems, including values that are paradoxical, counter-intuitive, or simply nonsensical[6]. These and similar problems have led some to question whether adjusted PAFs are of any practical value [7–10]. Furthermore, these strategies generally involve either estimating the direct effect (e.g., effect of smoking on MMR that is unrelated to birthweight) or the indirect effect (e.g., effect of smoking on MMR that is related to smoking's effect on birthweight–see Figure 1, top panel). However, others have noted various issues with differentiating direct and indirect effects in biological models [7–10], again, raising questions as to the practicality of calculating adjusted PAFs in multiple risk factor models.
In contrast, this paper outlines a procedure for partitioning the overall PAF associated with a group of risk factors into the individual effects associated with each specific risk factor based upon the order of that risk factor in the sequence of effects. As will be described in more detail, this technique directly parallels the estimation of R2 and change in R2 one estimates through a hierarchical multiple regression in which variables are entered in multiple steps, with those that occur earlier in a process (e.g., prenatal factors) entered prior to those that occur later in a process (e.g., early childhood environment). This results in parameter estimates at any given step being adjusted for the effects of those variables that were entered in earlier steps. This same process can be used to adjust for confounding by other variables, such as sex or SES, which may be related to the risk factors and outcome of interest.
It is also worth noting that an additional strength of this approach is that it adjusts a PAF for previously entered effects without attempting to differentiate direct and/or indirect effects. Instead, in estimates the total or net effect of a variable–direct and indirect effects combined–after controlling for other risk factors and/or confounding by other variables.
The proposed procedure is appropriate for representative or population-based studies where estimates of the risk ratio (RR) and the prevalence of a risk factor (pe) can be directly estimated. We first briefly describe existing strategies for assessing adjusted PAFs in multiple risk factor models, and then describe the proposed strategy for partitioning a PAF based upon the order of effects, drawing the parallels between this approach and the estimate of R2 and change in R2 in a multiple regression analysis. We illustrate this technique in three scenarios: (1) two risk factors are related/correlated with each other, but do not interact (i.e., there is not interaction effect), (2) two risk factors are not related/correlated with each other, but do interact (i.e., there is an interaction effect), (3) two risk factors are related/correlated with each other and interact.
Summary
It should be noted that this procedure does not address or prove "causality". The issue of establishing and quantifying causality in epidemiological research is a topic of ongoing theoretical and philosophical debate [18–23]. Instead, this is a descriptive procedure providing a measure of the relative population-level effects of multiple risk factors based on a specific model that may or may not be true. As noted previously, the results will differ depending upon the specific order of effects indicated by a model. The question remains whether a proposed model is or is not plausible. Nevertheless, the sequential partitioning strategy proposed here provides a valuable alternative means for examining the population-level impact of multiple risk factors unavailable through other techniques that provide less clear or less meaningful values. The procedure allows one to partition the overall effect of multiple risk factors based upon the sequence of effects that exists among the variables. In essence, it allows researchers to incorporate into their models the effect that one risk factor may have in terms of increasing rates of other risk factors in the model. In addition, if the effect of a risk factor on the outcome is believed to be confounded by other variables, those variables can be entered in the first step in order to adjust for those possible confounding effects. Consequently, the technique provides a potentially valuable tool for researchers interested in multiple risk factor models. A Microsoft Excel file [Partitioning PAF Excel Tool.xls] containing an annotated worksheet for the calculations and procedures reported here is available online through the journal website 1.
Declarations
Acknowledgements
This work was supported in part by a grant #BM019 from the Biomedical Research Program of the Florida Dept. of Health (Keith G. Scott, Ph.D., Principal Investigator).
Authors' Affiliations
(1)
College of Education and Human Development, University of Maine, and Maine's University Center for Excellence in Developmental Disabilities, University of Maine, Orono, USA
(2)
University of Maine, Orono, USA
Copyright
© Mason and Tu. 2008
This article is published under license to BioMed Central Ltd. This is an Open Access article distributed under the terms of the Creative Commons Attribution License (http://creativecommons.org/licenses/by/2.0), which permits unrestricted use, distribution, and reproduction in any medium, provided the original work is properly cited.